Eureka! hailed as a 'catalyst for regeneration' at official launch
Wirral's newest visitor attraction Eureka! Science + Discovery has been officially launched, ahead of its November opening to the public. 
As well as welcoming more than 187,000 visitors and delivering a projected £12m to the local economy by 2032, the multi-million pound visitor attraction will pave the way for young people to explore vital STEAM subjects (Science, Technology, Education, Arts and Mathematics). 
Speaking at the launch, Leader of Wirral Council, Janette Williamson said: "We couldn't be more excited to have a world class attraction like Eureka! opening in Wirral, a key catalyst project as part of Wirral's transformational regeneration programme along the Left Bank of the River Mersey. Not only is it a big boost for our local economy and will create many jobs but it's such an exciting, immersive way for children to learn." 
It is the first UK visitor attraction to be co-created with young people, with more than 120 local children involved in its creation, including students from Mosslands School and Oldershaw Academy in Wallasey, and users of The Hive Youth Zone in Birkenhead. Visitors can enjoy an array of interactive exhibits including a 12 foot tall cat, a see-saw that generates electricity through hydropower and 'Germ Buster' pinball machines.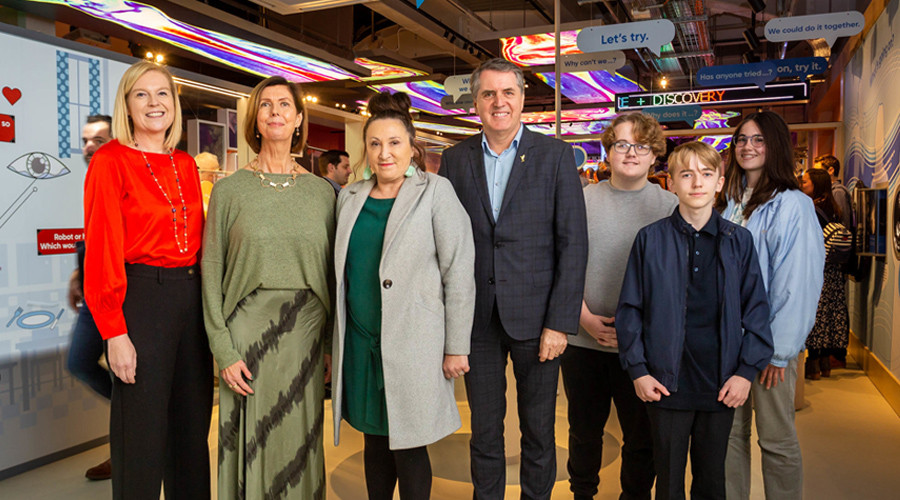 The new £11.4m visitor attraction has received funding from both public and private sector donations, including £6.4m from the Liverpool City Region Combined Authority's Strategic Investment Fund, and a £3m investment from the Wellcome Trust/UKRIs 'Inspiring Science Fund'. Other key funders include The Johnson Foundation, Ørsted and Wirral Council, with the attraction playing a key part in extensive regeneration plans to revitalise Birkenhead, its iconic waterfront and the Left Bank area. 
In her speech at the launch Cllr Williamson added:  "As I stand here today inside this new world-class attraction, I believe it epitomises the scale and ambition of our exciting regeneration programme in Wirral." 
Leigh-Anne Stradeski, CEO of Eureka! since 2000, said: "Eureka! has inspired, educated and entertained families for 30 years, and now we get to introduce our wild and wonderful world to so many more people here in Wirral.". 
The launch, which was catered for by students from Wirral Met College, also heard a speech from Mayor of the Liverpool City Region, Steve Rotheram. He said: "We want to inspire our youngsters to explore the opportunities out there for them and I can think of no place better for them to start that journey than here in the Liverpool City Region. Who knows how many engineers and scientists of the future might be inspired by their visits to Eureka? I'd love nothing more than to hear a Nobel Prize winner speaking with a scouse accent!" 
Eureka! Science + Discovery will open its doors to the public from Friday 11 November with tickets on sale now.
Photo credit: Matt Thomas