In focus: redesigning Chester and Duncan Street, and Hamilton Square
Wirral Council is running a consultation on a significant regeneration project aiming to connect Birkenhead and Liscard with better travel facilities.
The scheme is the first part of the Liverpool City Region Local Cycling and Walking Infrastructure project (LCWIP) proposed to be delivered in Wirral, and aims to encourage more people to walk, cycle or wheel for short journeys along a redesigned route.
So what are the proposals? Here, we take a look at the first three sections of the route.
In focus: Chester Street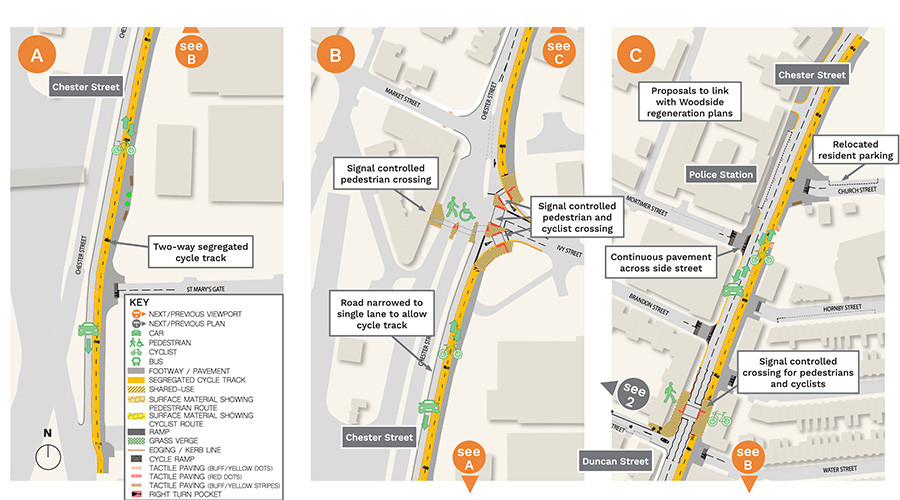 The route begins at the existing cycle track and footway at the south end of Chester Street. A new two-way cycle track will be created by reducing the width of Chester Street.
This cycle track will be separated from the road by kerbs. The new cycle track and existing footway will run north along Chester Street to connect to the Woodside regeneration area. The existing pedestrian crossings over Ivy Street and to Duncan Street will upgraded to allow cyclists to use them.
The footway will be raised at side roads for improved pedestrian access. A small resident parking bay near Hornby Street will be relocated to Church Lane and the parking bay outside the police station will be provided in a lay-by.
In focus: Duncan Street
Duncan Street is a relatively quiet street so it is proposed to make it one-way to all traffic travelling between Duncan Street and Hamilton Street.
Cyclists will share the road with other vehicles towards Hamilton Square and for cyclists travelling in the opposite direction from Hamilton Square, a contraflow cycle lane will be marked on the road.
Pedestrians will use the existing footways, which will be raised at side roads. At the junction with Chester Street, pedestrians and cyclists will share a small area to access the crossing.
At the Hamilton Square end, a two-way cycle track will be provided from Duncan Street, using changes in surface materials only.
In focus: Hamilton Square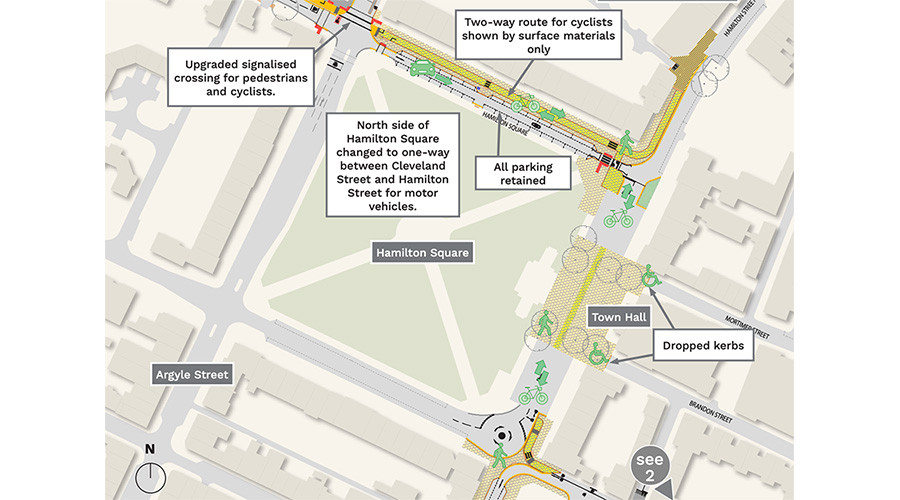 In Hamilton Square, new surface materials will be used to mark a two-way route for cyclists in front of the Town Hall and along the north side of the Square.
A new pedestrian and cycle crossing will be provided on the corner of Hamilton Square. In order to provide room for pedestrians and cyclists it is proposed to make the north side of Hamilton Square one-way only for all vehicles between Cleveland Street and Hamilton Street, with vehicles exiting via John Street or Hamilton Street.
All existing parking will be retained in laybys or car parks. The pedestrian crossing to Cleveland Street will be improved to allow cyclists to use it. This junction will also include measures to allow cyclists to make safe right turns off the road onto the route.
What do you think? Have your say
Have your say on these proposals or any part of the Birkenhead to Liscard route by visiting our consultation website by 4 December.
You can also see larger versions of the maps from this article under the Documents section of the consultation page.