Birkenhead to Liscard consultation over half way through
There are just under five weeks left to have your say on the proposals to improve the 3.5 mile route between Birkenhead and Liscard town centres.
Running from Chester Street and connecting Hamilton Square station, Woodside Ferry, Wirral Waters, Seacombe Ferry Terminal, Eureka! Science and Discovery Museum and Liscard town centre, this significant regeneration project plans to redesign the route to improve pavements and crossing areas, add more street furniture and seating and create dedicated spaces to ride and park a bike (including adapted cycles and tricycles).
Don't miss your opportunity to get involved - tell us what you think about the plans before Monday 4 December.
The last of our pop-up sessions, where you can view our plans and talk through your thoughts with staff, will be taking place on Saturday 4 November and Wednesday 8 November – with 8 November, also the last chance to experience the new proposed route through virtual reality.
After then, you'll still be able to visit any of our exhibition sites and view the plans and any feedback can be provided online, through the council's consultation website Have Your Say, or by requesting a paper copy of the survey.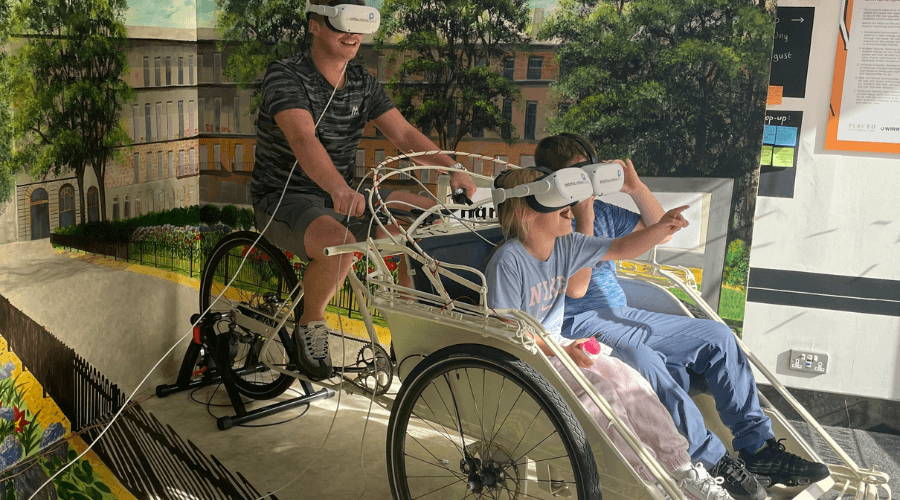 Pop-up sessions:
2 Cleveland Street, Birkenhead, CH41 6ND
Saturday 4 November between 11am and 4pm
Wheatland Lane, Wallasey, CH44 7ED
Wednesday 8 November from 4pm to 7.30pm
*Virtual Reality available*
Exhibitions:
Mortimer Street, Birkenhead, CH41 6ND
Until Monday 4 December (9am to 5pm Monday to Friday)
Conway Street, Birkenhead, CH41 6RN
Monday 13 to Sunday 19 November
Victoria Place, Seacombe, Wallasey, CH44 6QY (next to Eureka! Science and Discovery Museum)
Monday 20 to Sunday 26 November (7am to 6.45pm Monday to Friday and 10am to 4.30pm Saturday and Sunday)
2 Cleveland Street, Birkenhead, CH41 6ND
Monday 27 November to Saturday 2 December (9am to 5pm Monday to Friday and 10am to 4pm Saturday)