It's time to talk about men's health
This week (12-18 June) is Men's Health Week, which aims to shine a light on health issues that affect men and women disproportionately or differently.
One such area is mental health, where the Mayor of Wirral, Cllr Jerry Williams has found his ideal way to manage stress and promote his own mental wellbeing. According to the Mental Health Foundation men make up:
three-quarters of all suicide cases, with suicide being the biggest cause of death in men under the age of 50
just 36 per cent of referrals for NHS talking therapies (counselling)
almost three-quarters of adults who go missing and 87 per cent of rough sleepers
Men are also nearly three times as likely as women to become dependent on alcohol and three times as likely to report frequent drug use.  
As well as reaching out for professional help or support from family and friends, there are lots of things people can do to help improve their mental health. Like many others, Wirral's first citizen, Mayor Jerry Williams, has found that running is the key to controlling stress. The Mayor is a regular runner with 34 marathons and over 100 half-marathons under his belt. He said:
I started running over forty years ago and it has made a massive difference to my mental as well as physical health.

Like many people, I tend to over-think issues and would often find myself stressing out over things I shouldn't. However, running and the higher concentrations of norepinephrine that it produces in the body, clearly helps me to manage my stress and reduce tension.

I can also vouch for the so-called 'runner's high' which occurs when our bodies start releasing endorphins during vigorous exercise. This natural high is a great way to boost your mood, clear the mind of worries and feel more relaxed. The social benefits from running are huge, too – I have met so many friends through it over the years.

I'm not exaggerating when I say that running has transformed my life and things could have been very different without it.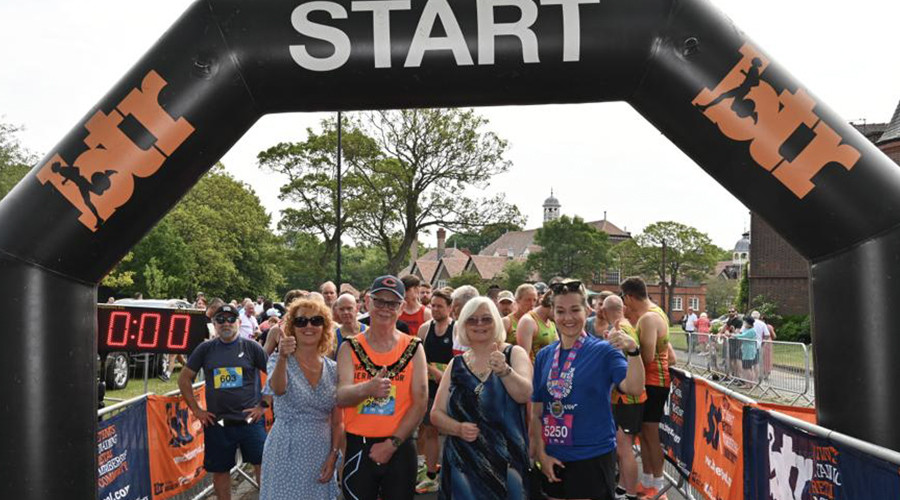 There are lots of ways people can get into running, including joining one of the Absolute Beginners sessions with Active Wirral – see activewirral.com/run-in-wirral for details. You can also download one of the Couch-to-5K apps. There are lots to choose from, including by the NHS and BBC. Mental health support
The Wirral InfoBank website provides information about organisations delivering a wide range of mental health support in Wirral and the surrounding area.
If you need urgent mental help support, please call the NHS Mental Health crisis line for Wirral and Cheshire.  NHS staff will then support you to get the help you need. – Available for people of all ages, including children and young people, available 24/7. Call Freephone 0800 145 6485.
Samaritans is a national charity with local branches and is available around the clock. Freephone: 116 123. CALM – Campaign Against Living Miserably is a charity which exists to prevent male suicide in the UK. Call Freephone 0800 58 58 58 (5.00pm-midnight). For more information about Men's Health Week and its organisers, the Men's Health Forum, visit www.menshealthforum.org.uk