Wirral children lead the nation on the walk to school
A Wirral school has been placed first on a national league table for pupils who walk to school.
Competing with 900 other schools in Living Streets' WOW Walk to School challenge, Christ Church CE Primary, Birkenhead – one of the schools taking part in Wirral Council's 'School Streets' pilot –  made the top spot and has now joined the WOW Walk Of Fame alongside schools in Northumberland, Lancashire, Sheffield and Birmingham.
Christ Church CE Primary School in Birkenhead is one of six schools across Wirral taking part in the School Streets scheme. This means that, at each of the schools taking part, sections of road outside and/or around the school are closed to traffic during drop-off and pick-up times to encourage walking and cycling, reduce traffic congestion and in-turn clean the air.
The scheme was introduced at Christ Church CE as a pilot from February 2022 and shooting to the top of the national leaderboard highlights the benefits the scheme has brought in its first nine months.
As with all schools that are part of the School Streets pilot, the scheme at Christ Church CE will continue to be monitored to assess for its permanent success based off feedback from local residents and families alongside site reviews.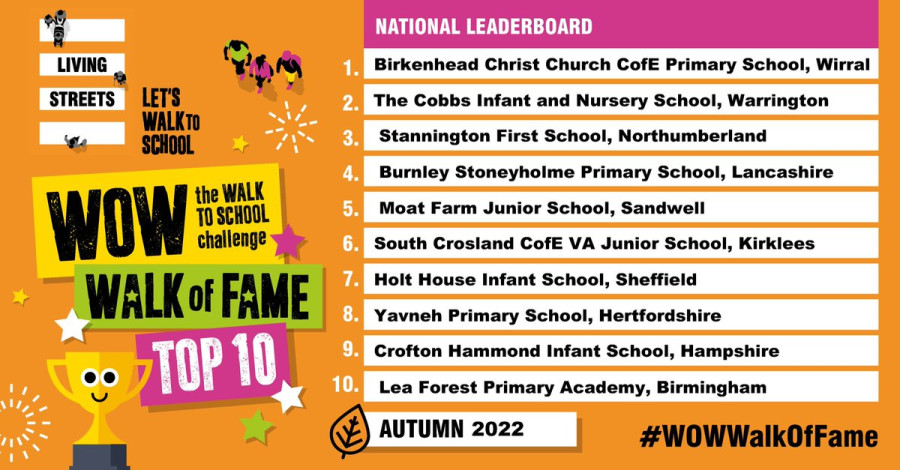 Cllr Liz Grey, Chair of the Environment, Climate Emergency and Transport Committee for Wirral Council, said:
What an incredible achievement this is for Christ Church CE Primary School, its pupils, and the School Streets scheme for Wirral. Walking to School has been something that some families have done for years but challenges and schemes, like the WOW Walk to School Challenge and School Streets initiative, are helping to encourage even more families to adopt more active journeys.

Cycling, walking or scooting are all ways to make our journeys more active and reduce our impact on the environment, and that includes on the journey to school. I hope that as the darker evenings draw in, we continue to see many families enjoying travelling actively.

Heading into winter, all road users whether driving, riding or walking, need to take even greater care to look out for other road users and make themselves visible. Crossing with school crossing patrols and at pedestrian crossings and wearing visible clothing or accessories are all very important but drivers also need to ensure their car lights are working and windscreens are clean to ensure other road users can be seen as clearly as possible.
Nicola Tweddle, Headteacher at Birkenhead Christ Church CE Primary School said:
As a school, we are absolutely delighted to finish top of the WOW Walk of Fame leader board in England. Since joining the School Streets initiative in February 2021, every member of our school community has pledged their commitment to sustainable and safer travel to and from school and the WOW challenge has provided us with the perfect platform to do this.

A huge congratulations to all involved, but particularly to our amazing children at Christ Church, who have led this initiative brilliantly and shown they are active and committed ambassadors of sustainable travel. We are so proud of this fantastic achievement!
WOW sees pupils record how they get to school using an interactive travel tracker. Those who walk, wheel, cycle, scoot or 'Park and Stride' to school are awarded a monthly WOW badge.
The autumn WOW Walk of Fame Challenge asked pupils to walk to school as many times as possible between 3 and 31 October. Pupils who live too far away or are not able to walk the whole way to school were encouraged to Park and Stride by asking their parents or carers to park at least ten minutes away from the school and walk or wheel the rest of the way.
Stephen Edwards, Chief Executive, Living Streets said:
It's fantastic to celebrate the achievements of Christ Church Primary School as part of the WOW Walk of Fame. Walking to school helps children to meet the recommended 60 minutes of physical activity a day needed to stay fit, healthy and happy and it can also reduce congestion, air pollution and road danger outside the school gates.

It's great that pupils at Christ Church Primary School are benefitting from walking to school. They are an inspiration and I'm sure that they'll encourage other children and their families to follow in their footsteps.