Audience members provide the power for off-grid music festival
Audience members were encouraged to 'keep the pedals spinning so the records keep turning' at a music festival with a difference. 
Birkenhead venue Future Yard hosted the Wax + Gears festival where all the event's power was generated by audience members on a bank of dynamo bikes next to the stage. The power generation was matched to a cycle-themed soundtrack of 'You Spin Me Round (Like a Record)' by Dead or Alive, 'Ride on Time' by Black Box and 'Ticket to Ride' by the Beatles. 
Described as a 'one-day festival of emerging music, cycling culture and climate activism', Wax + Gears featured off-grid sets from Podge, Munkey Junkey and Seagoth, as well as DJ sets from Subcora and Louisa from She Drew The Gun.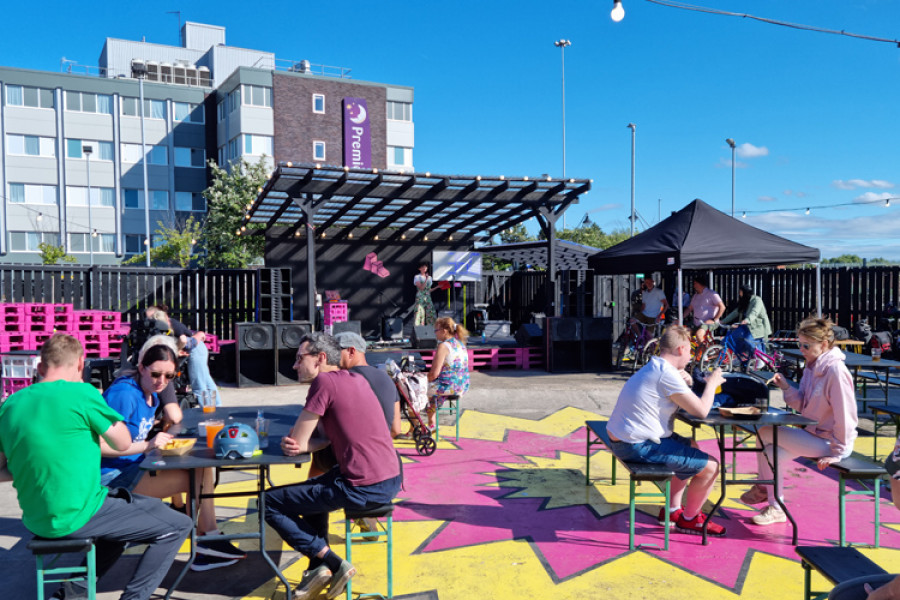 The music venue, based on Argyle Street in Birkenhead, launched their own 'Sustainability Roadmap' in March, laying out their plans to become the first carbon-neutral grassroots music venue in the North of England.
Future Yard's Co-Founder Craig Pennington said: "We have been working in partnership with Liverpool John Moores University's Low Carbon Eco-Innovatory to shape the long-term design of our building, understand our energy consumption and develop a range of policies to ensure we operate as sustainably as possible."
"We are committed to ensuring that we create a place that has a net positive environmental impact, one that takes carbon out of the atmosphere and plastic out of our oceans."
The festival came just a fortnight after Future Yard's New Noise Club <18 saw performers wearing upcycled outfits designed by Wirral students to raise awareness about the environmental and social impacts of fast fashion.

Photos: Colm Kuan