Living memorial established to remember the victims of the Nazi Holocaust
The Mayor of Wirral, Councillor Jeff Green, joined volunteers in Wallasey earlier today to plant a living memorial to the victims of Nazi genocide on Holocaust Memorial Day.
The Mayor and Mayoress met with local environment and community empowerment volunteers 'Earth Moves' at the Gunsite in Wallasey to plant 10 native fruit trees and light candles in memory of those who were lost or suffered through genocide.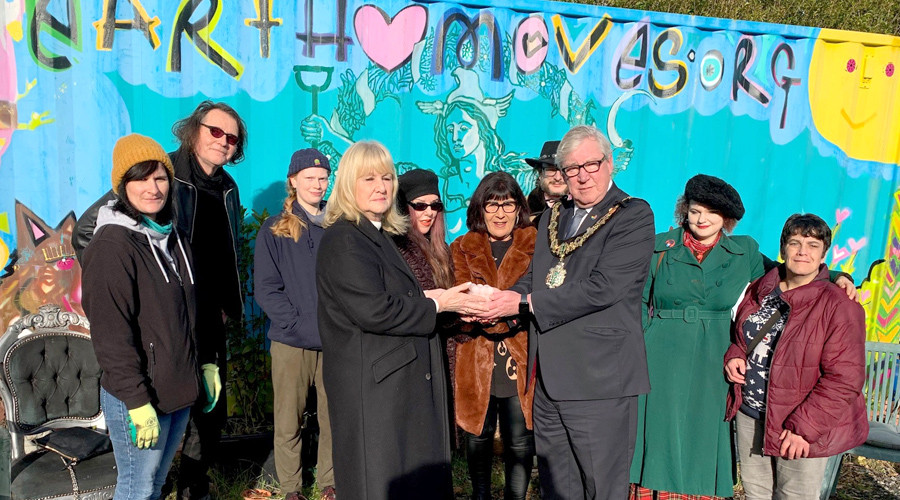 Commemorations take place on the 27th of January every year as it marks the anniversary of the liberation of the Auschwitz-Birkenau death camp in Nazi-occupied Poland.
The Mayor of Wirral, Councillor Jeff Green, said:
Earlier today we joined people around the country and beyond to remember the victims of Nazi persecution and all of those who suffered during subsequent genocides in Cambodia, Rwanda, Srebrenica and Darfur.

I also reflected on the devastating news coming out of Ukraine, which indicates that that the spectre of genocide is once again hanging over Europe.

I would therefore encourage everyone to take a moment today to remember all those killed or who have suffered - and who continue to suffer - and to think about how they can, in however small a way, help to challenge bigotry and hatred. The recent rise in antisemitism in Britain and around the world shows that we can never become complacent.
Paula Staunton of Earth Moves, said:
Earth Moves believes that we need to all come together and say no to antisemitism and other 'isms' that divide people. Alienation, discrimination and scapegoating minorities can lead to genocide.  

The holocaust was administered by thousands of 'normal' people. We need to challenge ideas of racial supremacy as soon as they arise. We need to remember and acknowledge the holocaust so we know the horror humans can inflict on each other and make sure it never happens again.
The theme for this year's national Holocaust Memorial Day commemoration is 'Ordinary People', and organisers are asking everyone to reflect on how genocide is facilitated by ordinary people. Ordinary people turn a blind eye, believe propaganda, join murderous regimes.
And how those who are persecuted, oppressed and murdered in genocide aren't persecuted because of crimes they've committed – they are persecuted simply because they are ordinary people who belong to a particular group such as Roma, Jewish, Tutsi or are gay.
The theme also calls on people to consider how rescuers, who are also often portrayed as extraordinary, with amazing bravery and skill (which may be true in some cases) are often ordinary people who did extraordinary things, risking their lives, their livelihoods, and their families, to help others.
Carole Gould from Earth Moves, said:
Ordinary people were involved in all aspects of the Holocaust, Nazi persecution of other groups, and in the other genocides that have taken place. Ordinary people were perpetrators, bystanders, rescuers, witnesses – and ordinary people were victims.